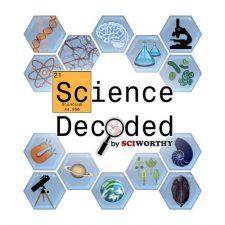 Sciworthy's Official Podcast is Available Now!
We are excited to bring you our official podcast, Science Decoded, with our host Justin Dingman.
He interviews the scientists behind the studies! We release new episodes every 3 weeks.
Consider becoming a supporter of our work here.
Are you a researcher who recently published a paper and would like to tell our listeners about it on our show? We'd love to hear about it! Click the button below to send us an email with your article and why you think our listeners would want to know what you've got going on!
Check out some of our other shows!
As I develop the writer training, I come across interesting, weird, disturbing, or confusing things in the college journalism textbooks I pull from. Join me on this journey inside the mind of a news-writer.
Understanding the Research Process
This video series explains certain under-discussed, unglamorous aspects of what it means to be a scientist and what the research process entails. Ideal for high school and college students.